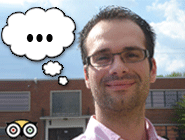 [2]Questa settimana abbiamo intervistato Guillaume Thevenot, nuovo responsabile promozione delle Business Listings di TripAdvisor per l'Europa, l'Africa e il Medio Oriente e autore del blog di web marketing turistico Hotel Blogs [3].
Gli abbiamo posto alcune domande relative alle strategie marketing per l'hotel, da cui sono emersi interessanti spunti, mentre di fronte al caso TripAdvisor e agli argomenti più caldi del momento, non emergono nuovi dati. Thevenot ha mantenuto la stessa posizione granitica di sicurezza e inattaccabilità tenuta in maniera univoca da tutti i membri del team TripAdvisor.
Per preservare al meglio i contenuti dell'intervista, la riportiamo di seguito in lingua originale.
We have read in your blog that now you are working for TripAdvisor (Business Listings). Can you explain to our readers more precisely what is your job?


I have indeed joined the TripAdvisor team here in Europe based in London since February 2010. My role is to build and maintain relations between the hotel trade and TripAdvisor. I am working with hotel associations, hotel representation companies, online hotel marketing companies and hotel groups in order to raise awareness about our B2B activities. For instance, hotels can benefit today from our free marketing tool called the Owner Centre. This allows the hotelier to monitor reviews about his property, respond to reviews or update information by adding more pictures on videos on all TripAdvisor sites. My other responsibility is to grow the Business Listings offering in Europe, Middle East & Africa. Business Listings is a unique way for hoteliers to market their property directly to travelers by adding their email address, the URL of their website and their phone number to their listing on the TripAdvisor site. We already signed up 12,000 hotels since January 2010 when the product was launched.
I am very excited to be part of such a wonderful team and I am very keen to work alongside the hospitality industry to make TripAdvisor a long term partner of the trade.

When Business Listings came out, we immediately made some of our clients apply. We verified it is actually an effective channel to gain visits and conversions but we have noticed that after a while, if the popularity index position of the hotel go down even a bit, the number of visits strongly decreases….


I am pleased that you have verified what an effective channel Business Listings is, and although travelers take into account many factors when planning a hotel stay, the higher a hotel is rated, naturally, the more interest it is likely to generate.

Some Hotels see their popularity index position decreases overtaken by new hotels that have the same average ranking but a really lowest number of reviews. They consider this system unfair and unreliable, do you think TA will do something to make it more trustable?


TripAdvisor's Popularity Index dynamically ranks hotels worldwide based on the customer satisfaction rate of a given hotel. We have a proprietary algorithm for determining popularity that takes into account quantity and quality of TripAdvisor reviews, guidebook ratings and comments from all over the Web. The algorithm puts more emphasis on more recent information. Based on feedback, we feel that our formula is right on the mark.

What about TripAdvisor fake reviews controversy? Many Hoteliers think a good part of them are fake and that TA algorithm is not able to successfully check them all. Some properties have asked to be removed by the web site but TA has refused.


From its foundation in 2000, TripAdvisor has been experiencing an unstoppable growth worldwide and basically owes its popularity to the honesty and the impartialilty of its more than 30 million reviews. TripAdvisor is extremely concerned about reviews' accuracy, so we cannot compromise our systems by revealing more specifics about how we leverage on our proprietary algorithm to police for fraud. Offering such detail would provide a roadmap for those attempting to manipulate the system. It is much the same way Google does not disclose details of its relevance algorithm that ranks priority on Google listings.

Hotels and travel businesses are listed in our Web sites according to the principles of Web 2.0 democracy: establishments are listed on the TripAdvisor's Web site anytime a traveller edits a review on them, the businesses listed on TripAdvisor are unrelated to the travel booking Web sites affiliated with TripAdvisor. The hotels' ranking on TripAdvisor only mirrors travellers' opinions and personal suggestions according to their unbiased and spontaneous thoughts. That's why hotels can't be cancelled unless they have stopped their business and closed.

What do you think about the hotel marketing strategies based on aggressively low rates (let's say "dumping") that many hoteliers have adopted to fight 2009 economic crisis? In your opinion what could be the best marketing strategies not based on room rates that a hotelier should implement right now to promote his property on Internet?


Hotels charging such aggressively low rates can only be a short term strategy. Cash flow is crucial when trying to attract travelers in the economic crisis – consumers are being more cautious with their money and expecting better deals. That said they are not expecting to receive a lower standard of service. They want to be impressed just as much, if not more, than before the crisis.

As such, managing clients' expectations and developing direct relationships with them is more important than ever. The best way to promote an establishment on the Web is to leverage on a strong marketing mix and develop specific Web 2.0 tools, ranging from a comprehensive proprietary Web site featuring the hotel's hospitality formula to a good management of on-line reputation thanks to travel communities reviews and feedbacks.

What is the best advice you could give to a hotelier that wants to start a blog for his property?


Make sure you understand which audience you want to target and how much time you are ready to spend on the blog. Also find who could be the best spokesperson in your hotel organization to contribute to the blog. Too often, blogs are written by 3rd party companies and consumers find this a bit boring. Also don't try to sell anything on the blog, just be yourself and write about your passion of being a hotelier, why you think the service you provide is great and what people can do outside hotel (restaurant recommendations, attractions…).

One of my favorite success story is Guido who writes at HappyHotelier.com and also manage a small hotel at The Hague. Don't forget to use video and pictures to show what you can offer to prospective guests. Finally, give a try to Twitter to promote your blog and update loyal customers about what's happening at your property and around.
Come avete potuto vedere, le domande più scottanti sono state come sempre "dribblate" con estrema eleganza, e i quesiti senza risposta che da tempo tutti ci poniamo, rimangono purtroppo tali. Ve ne vengono in mente altri da aggiungere ai nostri?!